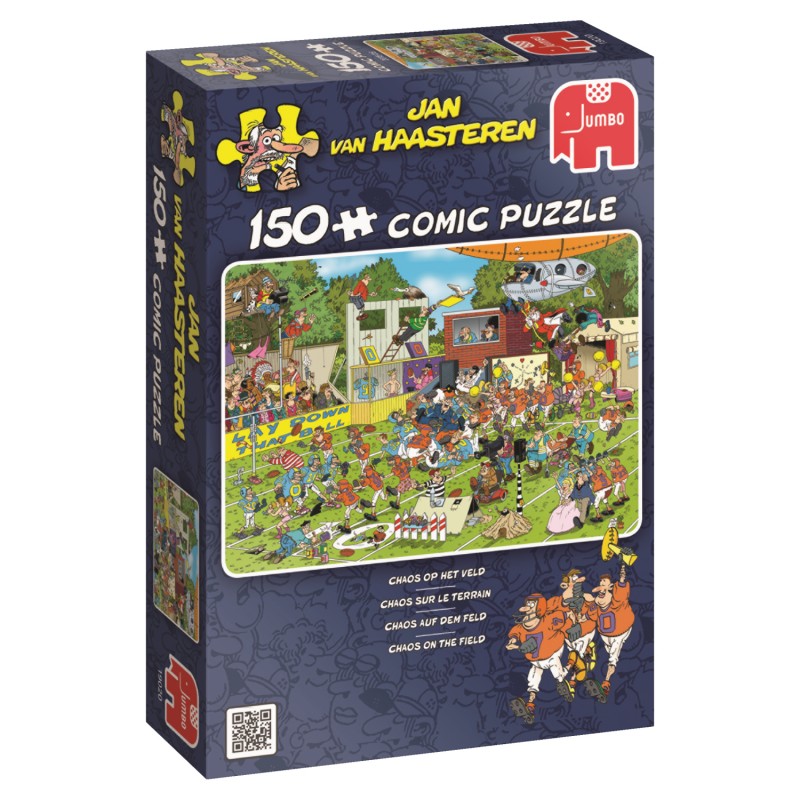  
Jan van Haasteren Chaos on the Field 150 pieces
Jan van Haasteren Chaos on the Field 150 pieces, 35 x 25 cm, 12+
Security policy (edit with Customer reassurance module)

Delivery policy (edit with Customer reassurance module)

Return policy (edit with Customer reassurance module)
Jumbo Jan van Haasteren Chaos on the Field 150 pieces. Type: Jigsaw puzzle. Number of puzzle pieces: 150 pc(s). Genre: Humor, Target audience: Adults, Recommended gender: Man/Woman, Recommended age (min): 12 yr(s)

For decades Jan van Haasteren has created highly detailed, colourful and, above all, humorous illustrations. Most of Jan's fans will immediately search for his trademark – the shark's fin – featured in every puzzle. But you can also look for other favourite images – Saint Nicholas, The Hands, The Dentures and Jan's self-portrait which you will find in nearly all of his illustrations.
Through the years there have been numerous Jan van Haasteren 150 to 5.000 piece puzzles in the Jumbo collection. Happy Puzzling!
Data sheet
mpn

19020

Master (outer) case weight

3.12 kg

Master (outer) case length

39 cm

Quantity per master (outer) case

12 pc(s)

Master (outer) case tare weight

60 g

Master (outer) case height

20 cm

Master (outer) case width

18 cm

Master (outer) case volume

14040 cm³

Pallet width

100 cm

Pallet length

120 cm

Pallet height

2 m

Quantity per pallet

1620 pc(s)

Pallet weight

421.2 kg

Number of cartons per pallet layer

15

Number of layers per pallet

9

Number of cartons per pallet

135

Package weight

225 g

Package volume

925 cm³

Package height

185 mm

Package depth

40 mm

Package width

125 mm

Country of origin

Netherlands

QR code

Yes

Languages

Danish, German, Dutch, English, French, Swedish

Package type

Box

Release date (DD/MM/YYYY)

01.09.2015

Height

250 mm

Not for children 0-3 years

Yes

Width

350 mm

Type

Jigsaw puzzle

Recommended age (min)

12 yr(s)

Recommended gender

Man/Woman

Target audience

Adults

Theme

Jan van Haasteren

Number of puzzle pieces

150 pc(s)

Material

Cardboard

Genre

Humor
You might also like